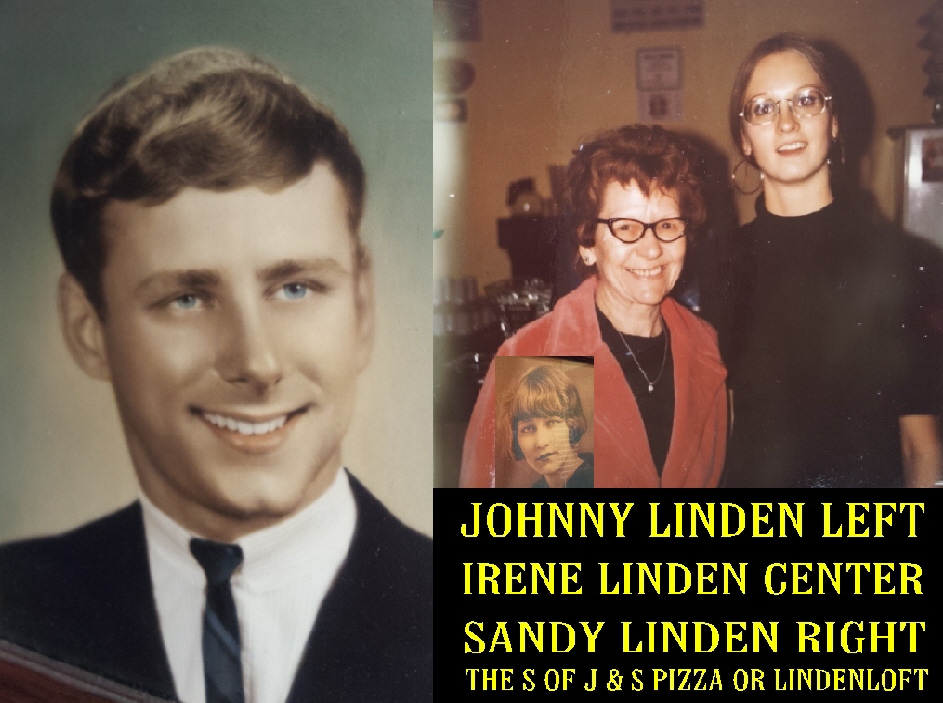 IN PARSONS KANSAS, IN THE SUMMER OF 1966, AFTER GRADUATING FROM PARSONS JUNIOR COLLEGE, JOHNNY LINDEN FIRST WORKED IN THE PIZZA BUSINESS, IN THE FIRST PIZZA RESTAURANT TO OPEN IN HIS HOME TOWN.

THAT FALL HE TRANSFERED TO KANSAS STATE COLLEGE IN PITTSBURG, KANSAS. WHILE GETTING A SCHOOL TEACHING DEGREE, HE WORKED FOR A YEAR AT THE PIZZA PALACE, A COLLEGE HANG OUT, ACROSS THE STREET FROM THE COLLEGE. HE LOVED WORKING IN THE PIZZA BUSINESS. HOWEVER, AFTER GRADUATION, HE MOVED TO SALINA, KANSAS TO TEACH SCHOOL, AND WENT TO WORK FOR PIZZA HUT. ONE JUNE NIGHT IN 1971, HE WAITED ON A TABLE, AND MET SANDY SOLDAN, WHO SOON BECAME SANDY LINDEN.

IN HIS 3rd YEAR OF TEACHING INDUSTRIAL ARTS WOODWORKING, METALS AND DRAFTING AT ST. JOHN'S MILITARY SCHOOL, HE TAUGHT SCHOOL IN THE MORNING, AND RAN THE PIZZA HUT ALL BY HIMSELF FOR LUNCH FROM 12 NOON UNTIL 5 PM.

WHEN PIZZA HUT BOUGHT NEW OVENS, HE BOUGHT THEIR OLD OVENS FOR $100 AND DECIDED TO OPEN HIS OWN PIZZA PARLOR. AFTER THREE YEARS OF SCHOOL TEACHING, HIS LOVE FOR THE PIZZA BUSINESS, WAS MUCH GREATER THAN HIS LOVE FOR TEACHING SCHOOL, SO HE PACKED UP HIS MOBLE HOME, MOTOR CYCLE TRAILER, WIFE SANDY, TWO CONVERTIBLES, PUT THE TOPS DOWN, AND HEADED FOR NEVADA, MISSOURI.

AT THE TIME, NEVADA WAS WITHOUT A PIZZA BUSINESS. SO AFTER 6 WEEKS OF REMODELING, DOING MOST OF THE CONSTRUCTION HIMSELF, HE OPENED J & S PIZZA PALACE ON THE NORTHWEST CORNER OF THE SQUARE ON JULY 9th 1972. AFTER A COUPLE OF YEARS, HE WANTED TO OPEN A SECOND LOCATION IN HIS HOMETOWN. BUT PARSONS KANSAS WAS GOING THRU URBAN RENEWAL, AND HAD JUST ABOUT TORN DOWN EVERY VACANT BUILDING IN TOWN. SO THE IDEA CAME TO HIM TO MOVE TO HIS SECOND FAVORITE TOWN TO VISIT, MUSKOGEE, OKLAHOMA.

SO ON OCTOBER 14th 1974, AFTER 3 MONTHS OF CONSTRUCTION, MOSTLY BY HIMSELF, HE OPENED J & S PIZZA PALACE #2, 2 BLOCKS AWAY FROM HIS FAVORITE AUNT AND UNCLE, VIOLA & WALTER MEZGER, IN MUSKOGEE, OKLAHOMA. YOU MIGHT KNOW THEIR DAUGHTER, CAROLYN LANE AND FAMILY SAM LANE, TAMMY AND KRISTIN.

ON AUGUST 1, 1976, HE OPENED UP J & S PIZZA PALACE # 3 IN TAHLEQUAH, OKLAHOMA.

IN 1979 THE NAME J & S PIZZA PALACE WAS CHANGED TO LINDENLOFT PIZZA, LIKE KENS PIZZA BECAME MAZZIOS PIZZA.

ON NOVEMBER 1, 2007, HE OPENED UP LINDENLOFT PIZZA #4 IN MUSKOGEE, OKLAHOMA.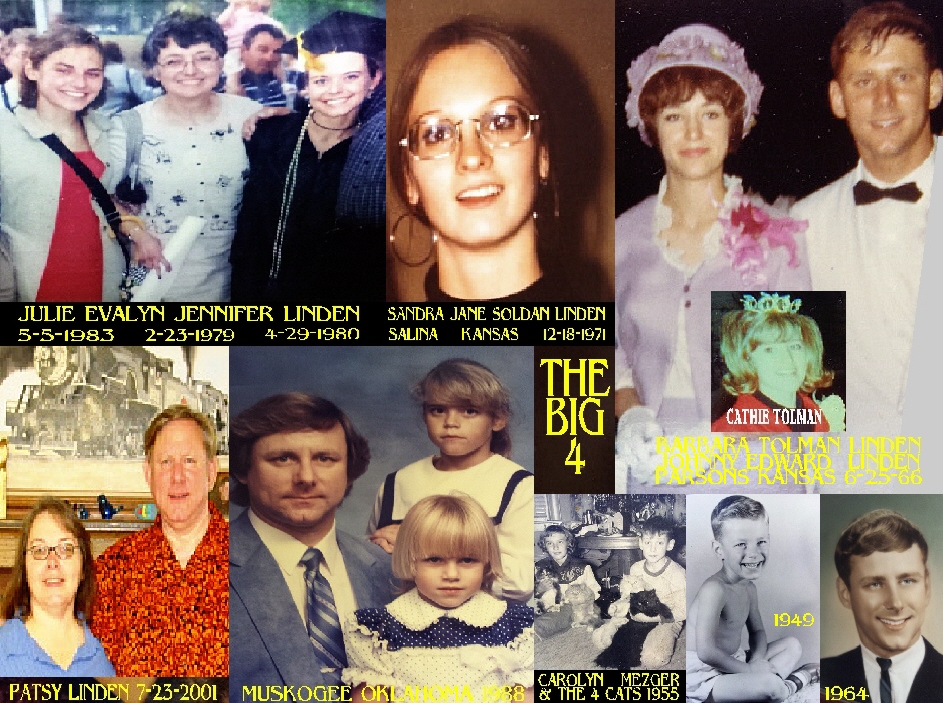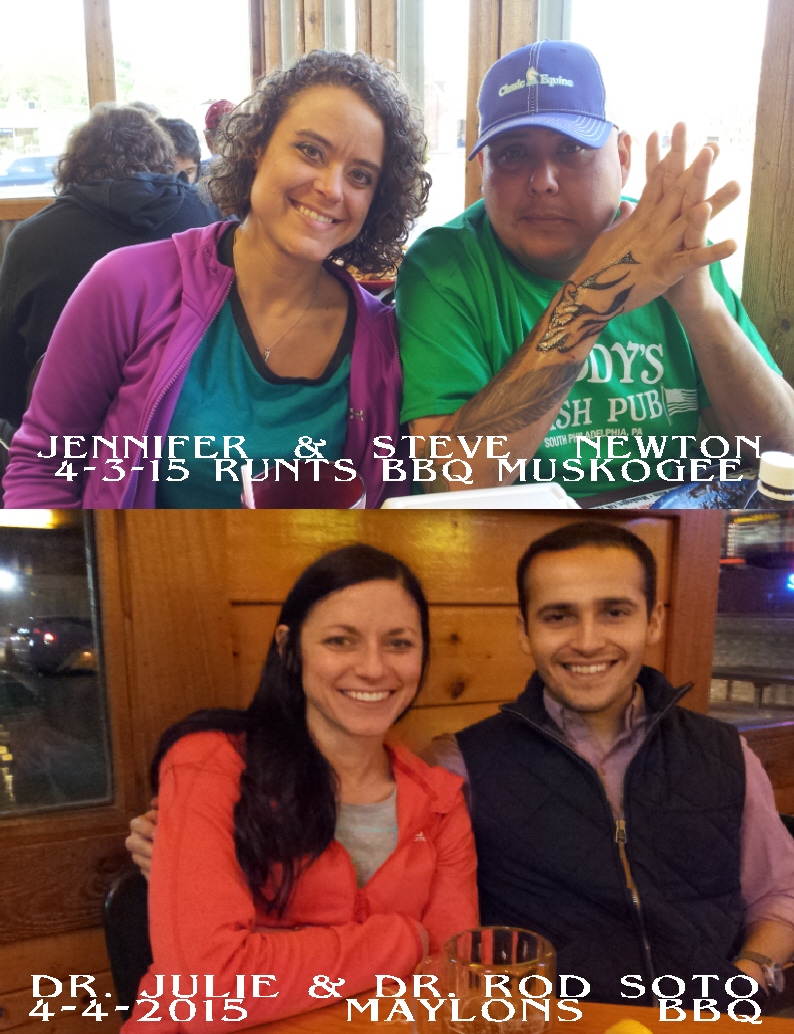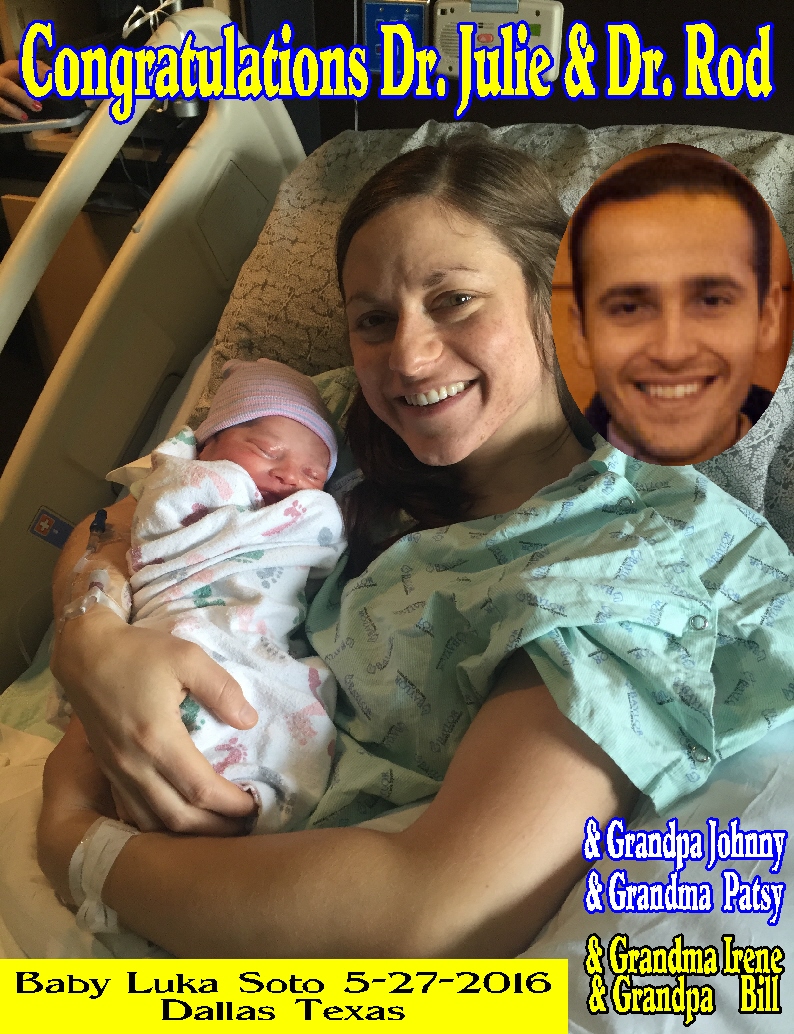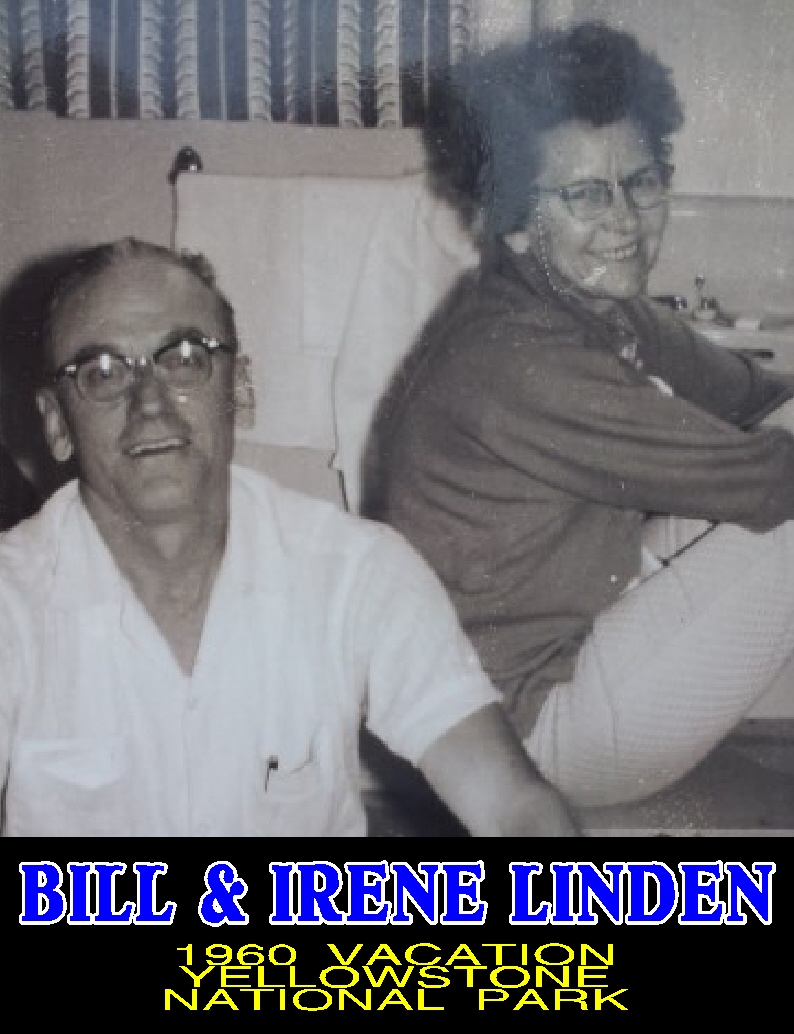 EDWARD LINDEN, LOCOMOTIVE ENGINEER, KATY RAILROAD, PARSONS KANSAS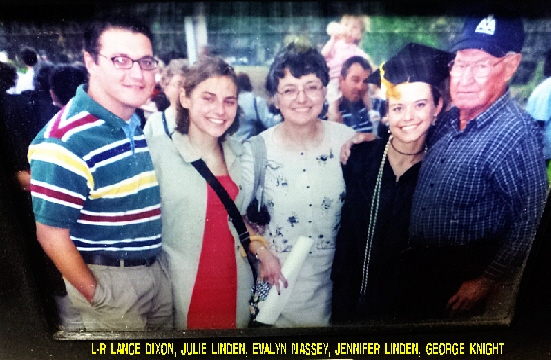 IN THE FALL OF 1979, WHEN JOHNNY WASN'T MARRIED TO SANDY ANYMORE, THE S OF J & S PIZZA, HIS NEW WIFE EVALYN, THOUGHT IT WOULD BE NICE TO CHANGE THE NAME OF J & S PIZZA. EVALYN WAS THE FORMER EVALYN KNIGHT DIXON FROM CHECOTAH, PHARMACIST AT KIRK'S DRUG, VALEDICTORIAN OF HER PHARMACY CLASS AT OU, AND MOTHER OF LANCE AND RANDA DIXON. LANCE LATER BECAME A MATH TEACHER AND COACH AT AR JR. HIGH AND MUSKOGEE HIGH SCHOOL.

EVALYN'S DAD GEORGE KNIGHT, JUST HAPPENED TO BE PRINCIPAL OF CHECOTAH HIGH SCHOOL. GEORGE IS ALSO THE GRANDPA OF TOMMY KNIGHT, WHO WORKED AT LINDENLOFT FOR 3 YEARS BEFORE HE BECAME MAJOR TOMMY KNIGHT OF THE MUSKOGEE POLICE DEPARTMENT. GEORGE KNIGHT ALSO WON A STATE BASKETBALL CHAMPIONSHIP AS COACH AT ONAPA, THE HOME OF A FARM GIRL YOU MIGHT HAVE HEARD OF, CARRIE UNDERWOOD.

EVALYN LINDEN THOUGHT IT WOULD BE NICE TO CHANGE THE NAME OF J & S PIZZA. SO THEY TORE THE CEILING OUT OF J & S, ADDED A LARGE BALCONY AND TWO MORE LARGE ROOMS WITH SEATING FOR 225 PEOPLE, A BEAUTIFUL 14 FOOT GRAY ROCK FIREPLACE,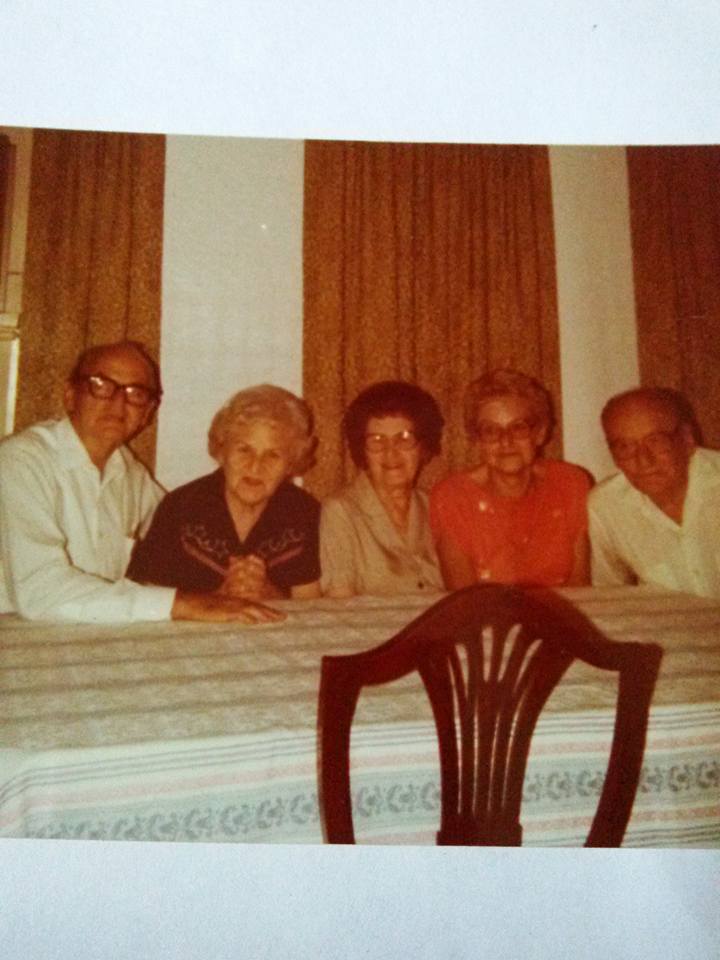 LEFT TO RIGHT - FRANCIS LINDEN, ADELINE LINDEN PITTMAN, CECELIA LINDEN SCHALLO, BARBARA LINDEN BAKER, EDWARD JOSEPH "BILL" LINDEN, FROM ST. PAUL, KANSAS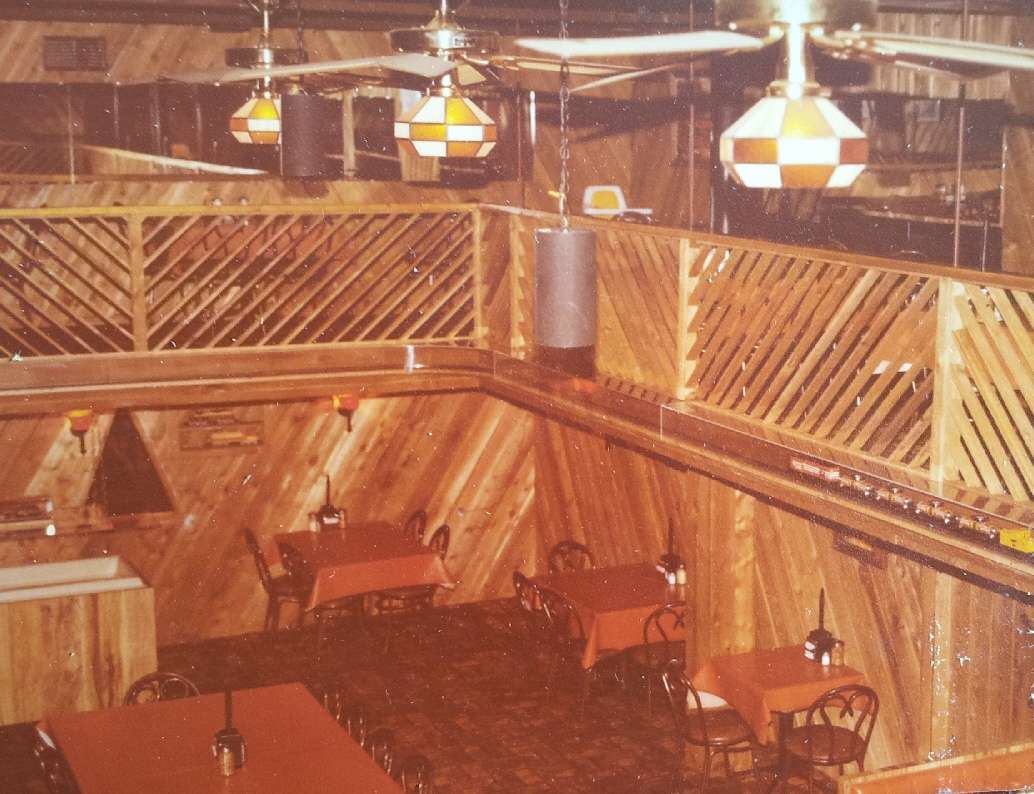 AN ELECTRIC TRAIN THAT RAN 100 FEET AROUND THE BALCONY BETWEEN BOTH LEVELS, A BUTTON UPSTAIRS AND DOWNSTAIRS THAT THE KIDS COULD PUSH TO START THE TRAIN, $10,000 WORTH OF ELECTRIC TRAINS ON DISPLAY, TWO 72 INCH BIG SCREEN TV'S, 14 VIDEO GAMES, LINED THE WHOLE INSIDE WITH ROUGH CEDAR, ADDED A 6 FOOT ROUND SKYLIGHT VIEW OF THE STARS, AND CHANGED THE NAME TO LINDENLOFT PIZZA. THE NEW NAME WAS A COMBINATION OF LINDEN AND BALCONY OR LOFT, THUS LINDENLOFT. YOU MIGHT REMEMBER THE BUILDING, IN LATER YEARS, KNOWN AS ZEPPS.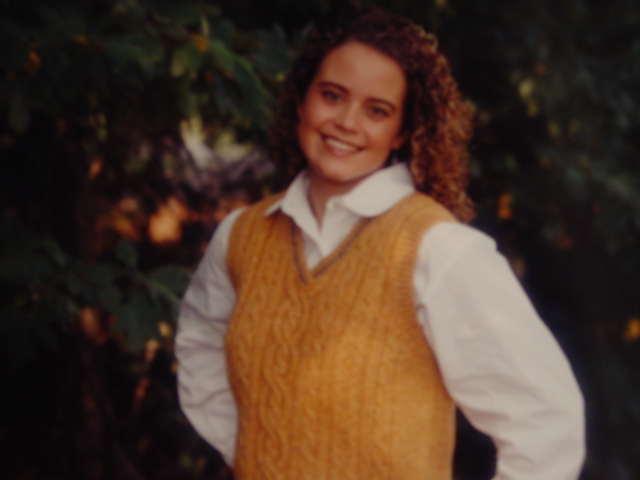 JENNIFER LINDEN
AS LUCK WOULD HAVE IT, ON APRIL 29, 1980, A BEAUTIFUL BABY GIRL WAS BORN NAMED JENNIFER LINDEN. YOU MIGHT REMEMBER JENNIFER. SHE HAD THE LEAD FEMALE PART OF ROSIE IN BYE BYE BIRDIE AT MUSKOGEE H. S. IN 1998 AND SANG IN THE ELITE MHS SINGING GROUP, TUXEDO JUNCTION. HER DAD ALSO SANG IN THE MUSICAL BYE BYE BIRDIE HIS SENIOR YEAR AT PARSONS HIGH SCHOOL. JENNIFER IS A DIETICIAN AT THE INDIAN CLINIC IN MUSKOGEE.

WHO IS THIS BEAUTIFUL COWGIRL? MAYBE CANDY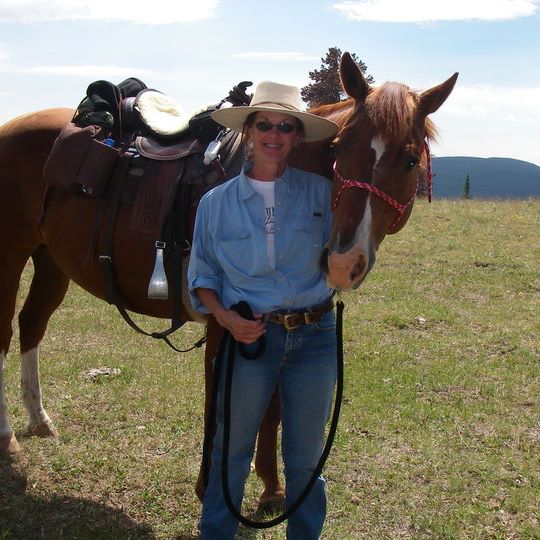 MARTHA WILLSIE STOREY, DAUGHTER OF ADELBERT & BETTY WILLSIE, DUNCAN, OK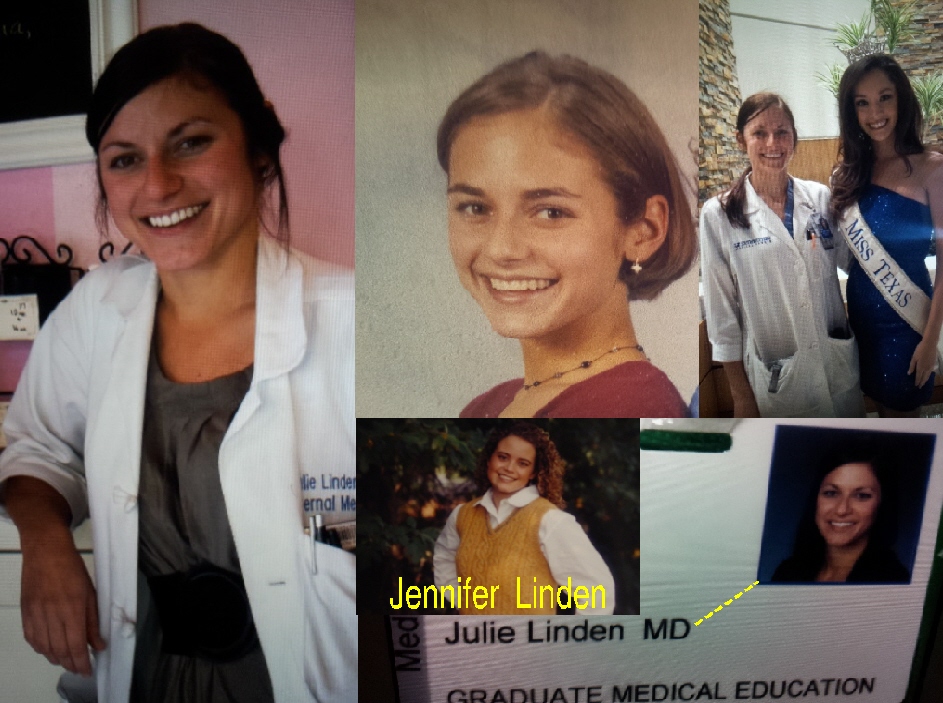 ON MAY 5, 1983 ANOTHER BEAUTIFUL BABY GIRL APPEARED NAMED JULIE LINDEN, AND THE REST IS HISTORY.
JULIE PLAYED SOCCER AND WAS VARSITY CHEERLEADER 3 YEARS AT MUSKOGEE H. S. UNTIL 2001, AND EVEN PLAYED SOCCER THROUGH WESTMINSTER COLLEGE IN FULTON, MISSOURI. AFTER GRADUATING SHE CONTINUED HER EDUCATION FOR 4 YEARS AT OU MEDICAL SCHOOL. JULIE IS NOW A LAZER EYE SURGEON IN DALLAS, TEXAS.

WHEN J & S PIZZA OPENED IN 1974, MUSKOGEE ONLY HAD 4 OPERATING PIZZA PARLORS, PIZZA HUT, PIZZA INN, AND TWO KENS PIZZAS. WHEN LINDENLOFT CLOSED ON APRIL 2nd, 1988, DAVID BRENNER'S BIRTHDAY,THERE WERE 15, NOT TO MENTION THE 30 PLUS PIZZA PARLORS THAT HAVE CLOSED THEIR DOORS IN MUSKOGEE IN THE LAST 40 YEARS.

SINCE LINDENLOFT CLOSED IN 1988 , MR. LINDEN HAS HAD 5 YEARS EXPERIENCE WORKING AT PIZZA HUT AND 7 YEARS EXPERIENCE WORKING AT DOMINOS PIZZA PLUS 17 PREVIOUS YEARS PIZZA EXPERIENCE. SO HE KNOWS WHAT QUALITY FEATURES ARE MOST IMPORTANT IN FOOD PRODUCTS AND CUSTOMER SERVICE.

OVER THE LAST 20 YEARS, HUNDREDS OF PEOPLE HAVE ASKED MR. LINDEN, WHY HE DOES'NT OPEN LINDENLOFT AGAIN, BECAUSE THEY LOVED THE PIZZA AND EVERYTHING SO MUCH.

THE NEW LINDENLOFT OPENED NOV. 1, 2007 AND HAD PIZZA BUFFET FOR 4 YEARS UNTIL IT WENT TO PIZZA DELIVERY TILL 3 AM ON AUGUST 16, 2011.



LINDENLOFT.COM OR LINDENLOFT PIZZA.COM TO ORDER FOR DINE IN, CARRYOUT OR DELIVERY.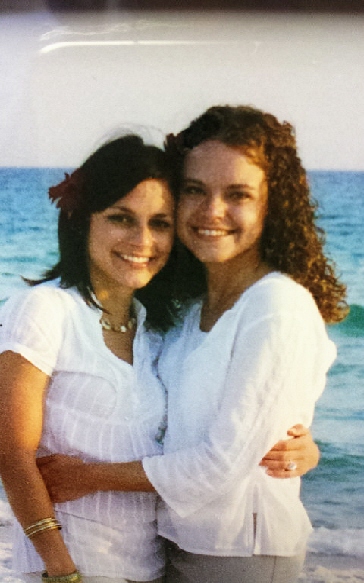 DR. JULIE LINDEN & DIETICIAN JENNIFER LINDEN

JOHNNY & JULIE LINDEN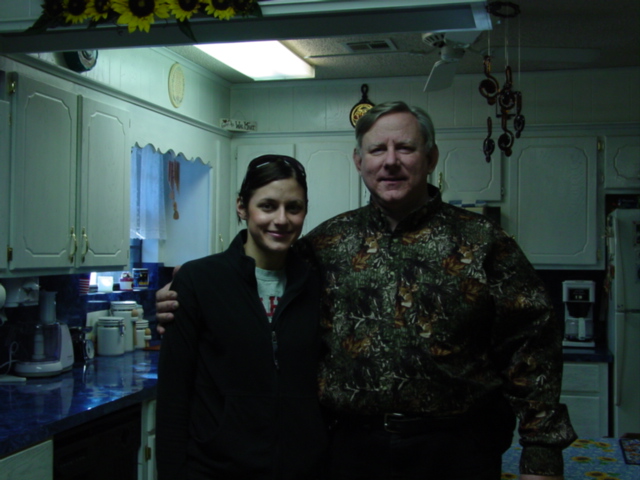 JOHNNY & PATSY LINDEN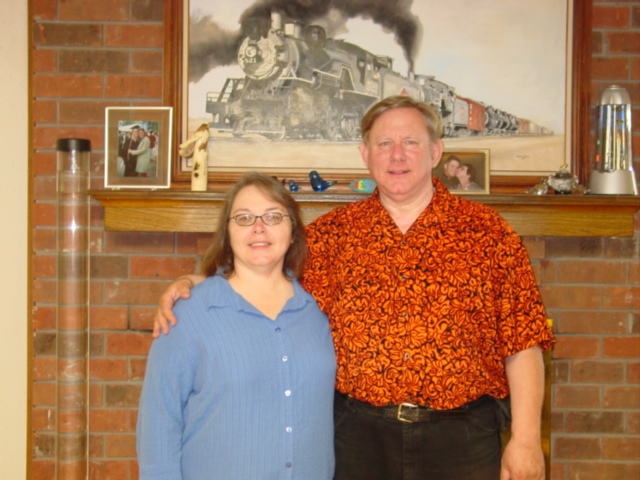 November 26, 2007

Linden Loft's back
Once-popular pizza place opens again
By Cathy Spaulding


Sadler Paper Co. employees Kelly Webb and Nikki Phipps recall the good pizza and good times they had at the old Linden Loft Pizza in the 1980s.

"I liked the garlic bread, it had the alpine sauce," Webb said about the popular '80s hang-out. "Linden Loft was one of the first places with an alpine pizza, then everyone else started having it."

"I used to take my boys with me," Phipps said. "We used to sit and watch the toy trains go by on the walls."

Webb and Phipps recalled the good old days while having lunch at — Linden Loft Pizza.

Johnny Linden, who operated the pizza place on York Street from 1974 to 1988, set up the new loft in the basement of Shadowwood Mall, 401 W. Broadway. He serves pizza, a salad bar, hot sandwiches and the alpine garlic bread.

Yes, he said, the electric trains are coming soon.

With bright blue and yellow paint, the new place doesn't look too much like what people remember about the old place, which had a stone fireplace and balcony seating.

"I remember it had a lot of video games and they had a train that went all the way around the building," said Donnie Rooks, who now works at the new pizza place.

After working at pizza places in Kansas, Linden opened J&S; Pizza Palace in 1974 on York Street and Broadway. The store later changed its name.

Linden said people began missing the old place almost as soon as it closed.

"For 20 years after that, everyone told me they had the best pizza in town there," he said.

Linden spent those years working at other pizza places in the area.

"Finally, we got the opportunity to open up again," he said.

Webb said the new pizza is just as good as the old.

Linden said he uses fresh dough each day, hand tossing each pie crust. He also uses whole milk mozzerella cheese.

Webb and Phipps said they look forward to seeing the train come back. It would be yet another reminder of the place they used to like more than 20 years ago.

"It was just a good place to take the family," Phipps said.











PATSY, CAMERON, KAYLEE, JESSICA, & TRACY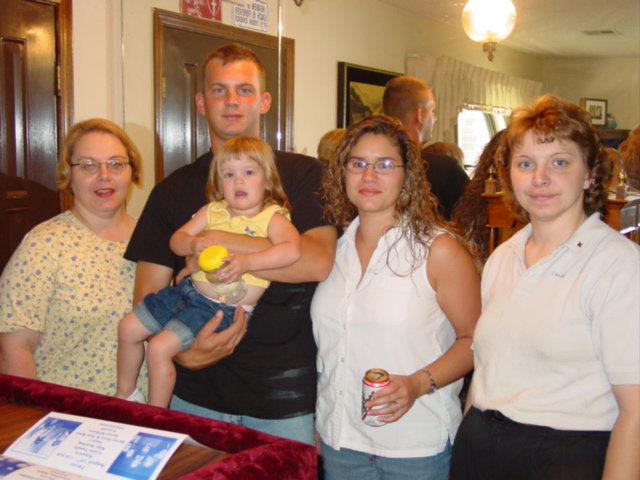 CAMERON & JULIE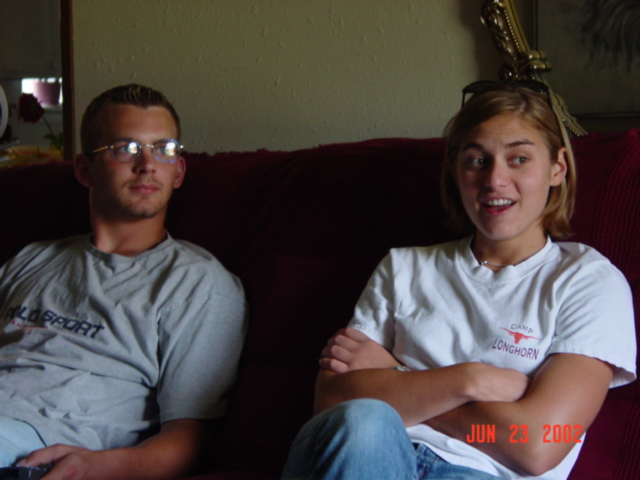 JULIE & JENNIFER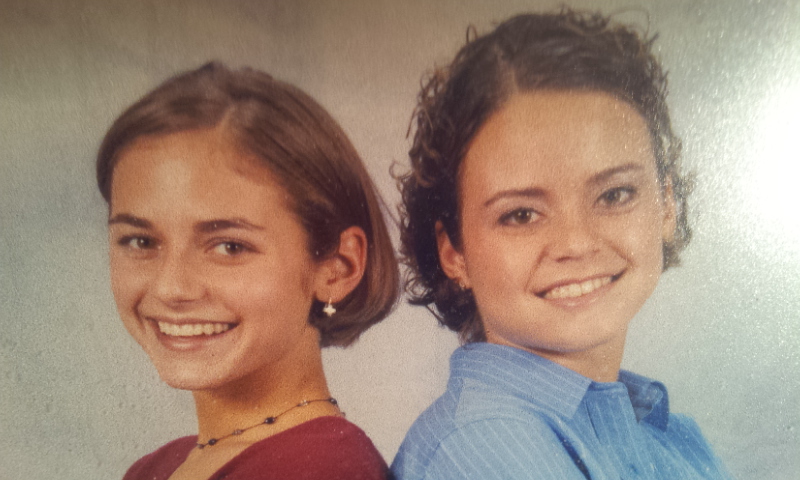 JULIE & MISS TEXAS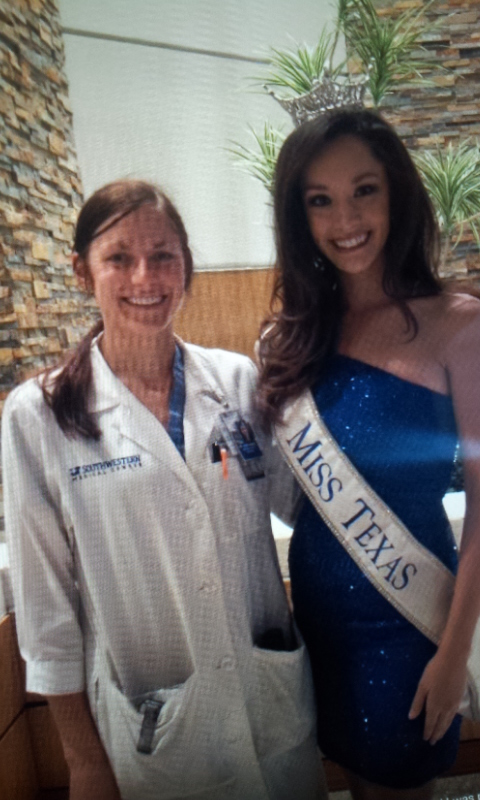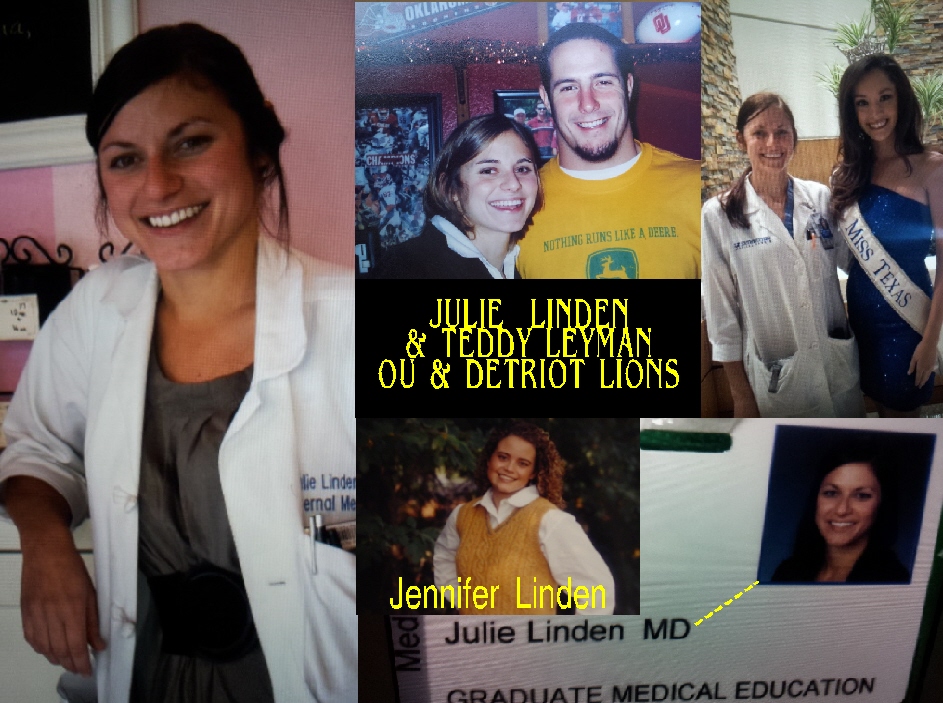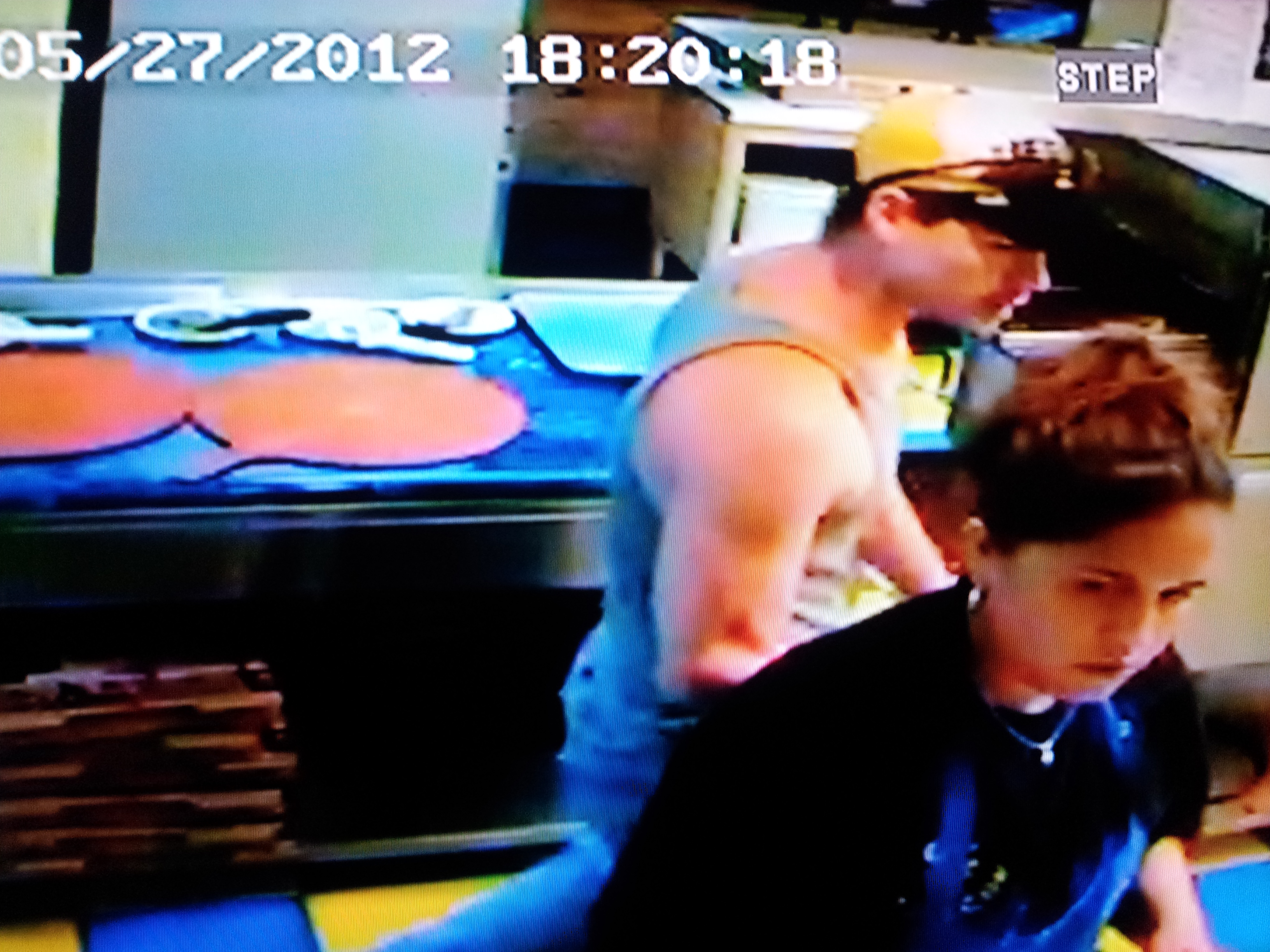 CLICK HERE TO BRING LINDENLOFT PIZZA BACK TO THE FUTURE FROM 1988

JENNIFER LINDEN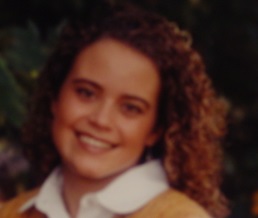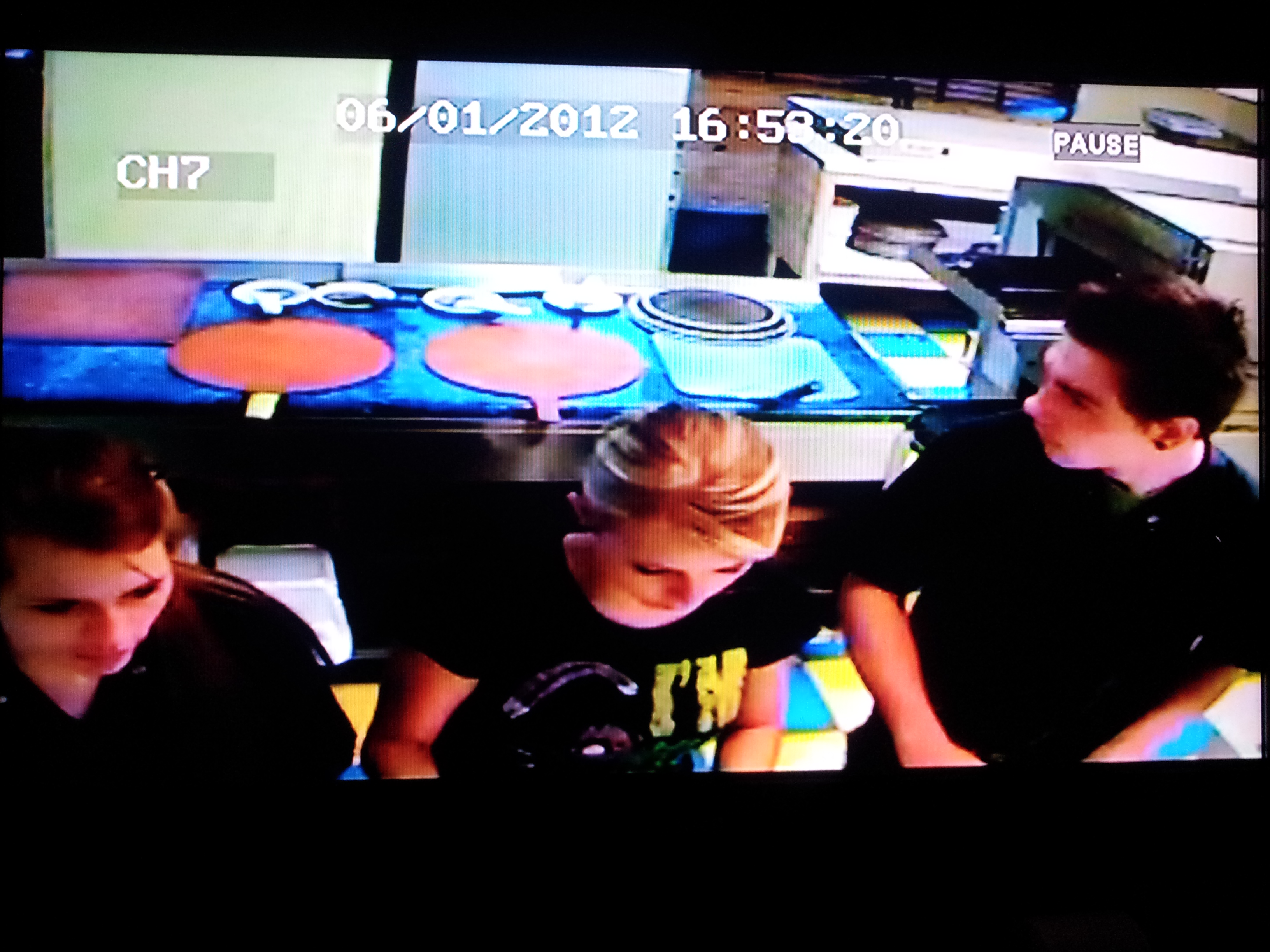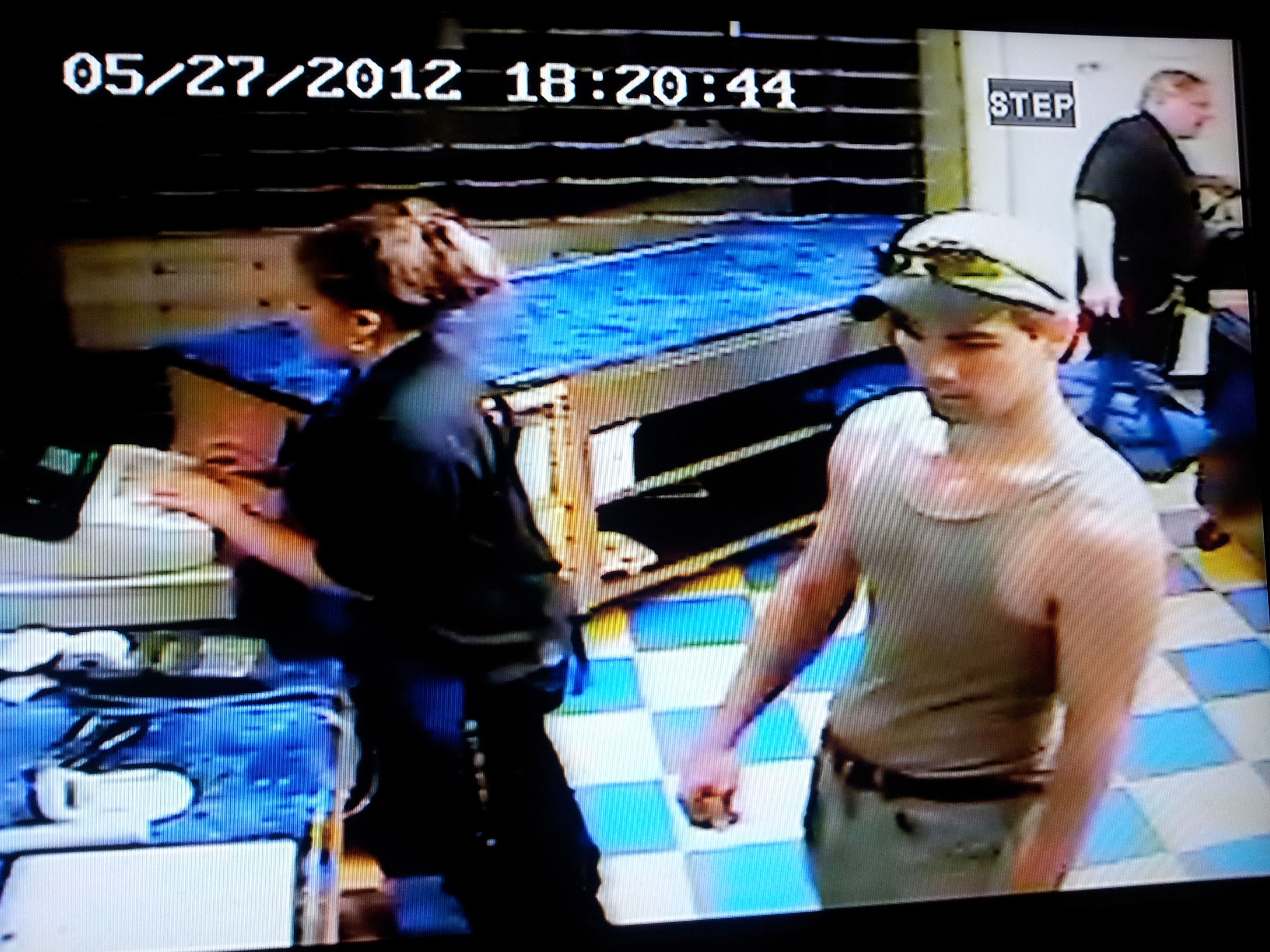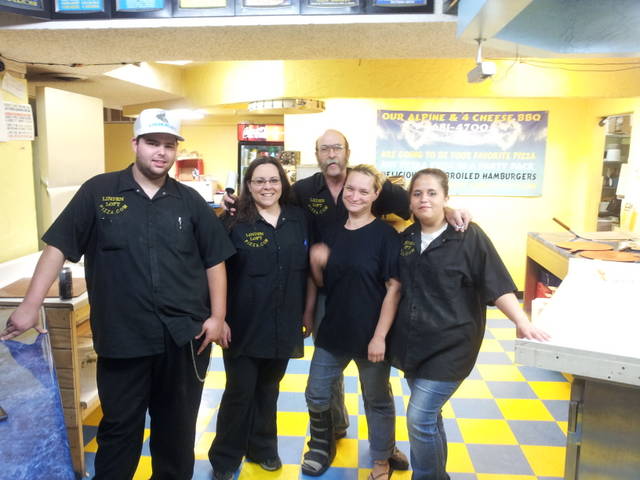 WESTLY, BROOKE, JAMES BROOKE, TIFFANY, HELLICA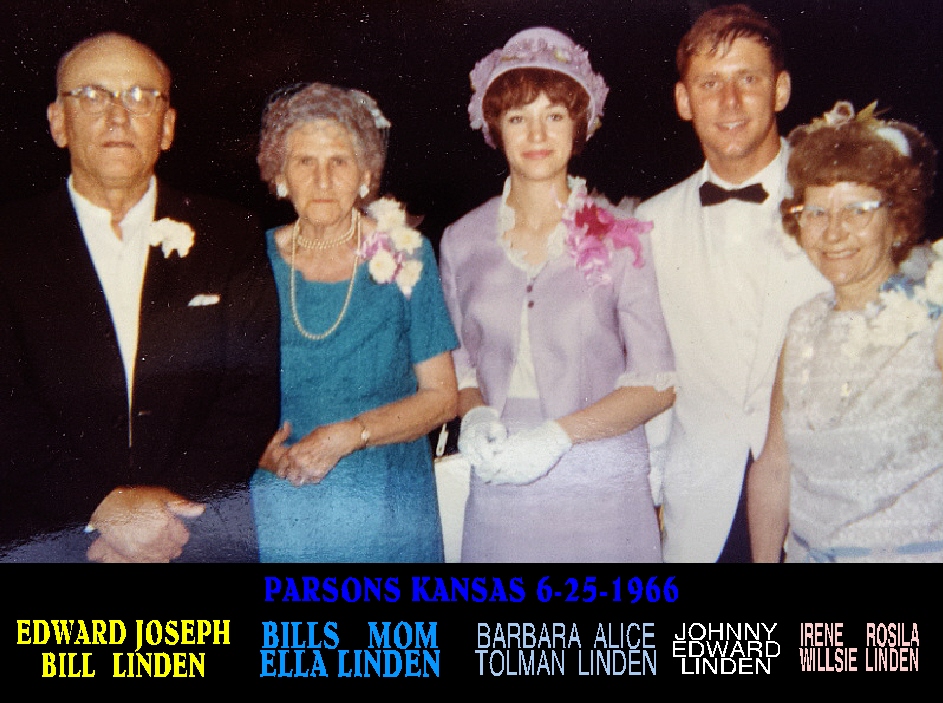 2017 Parsons Katy Days video celebration.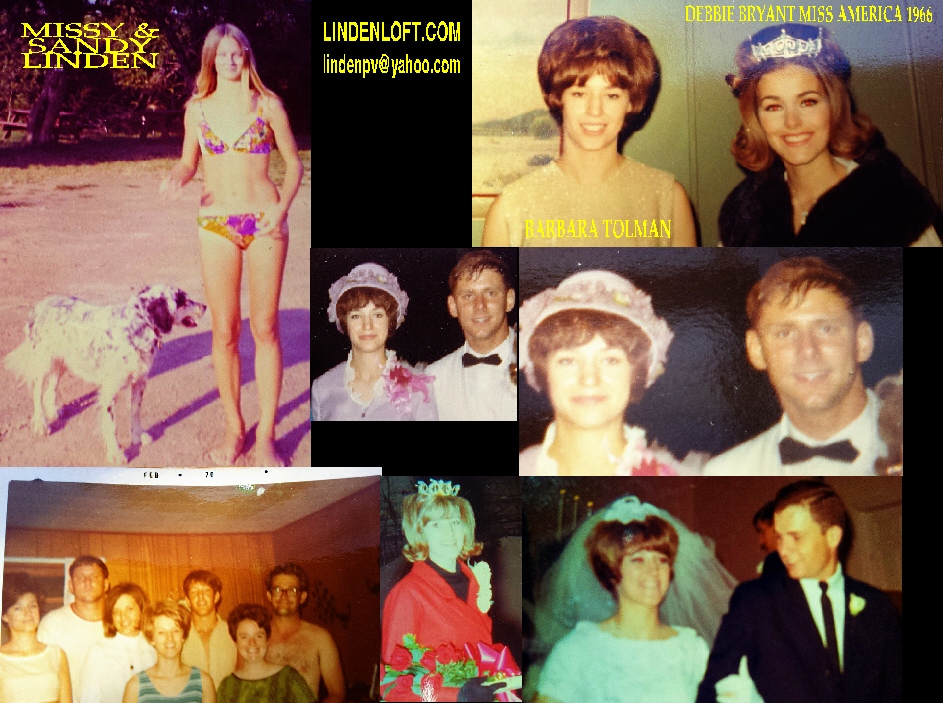 MISS AMERICA 1966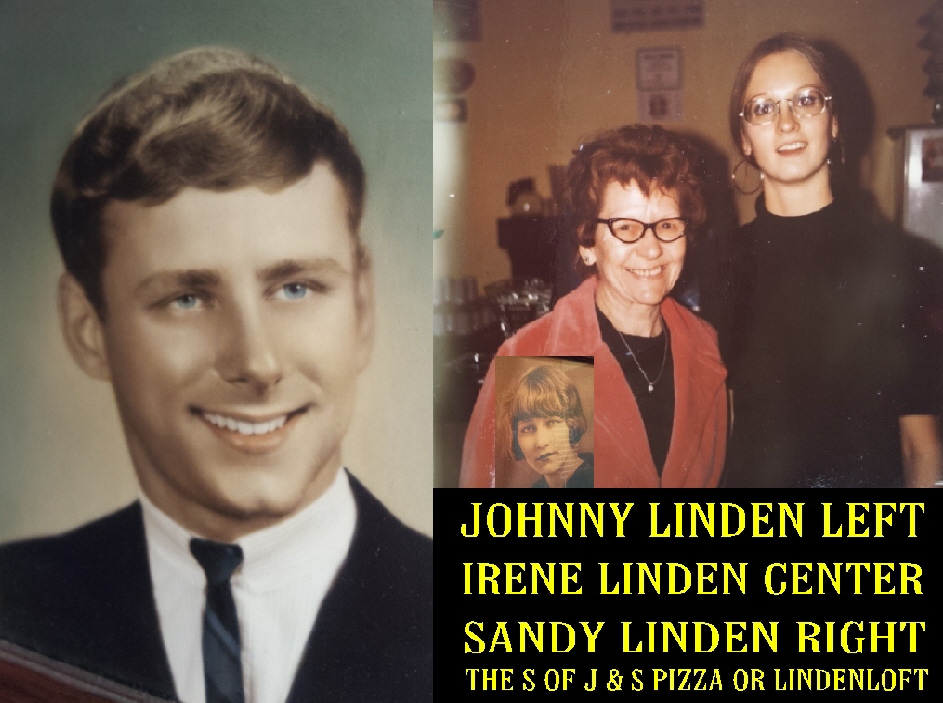 IRENE LINDEN & SANDY LINDEN OF J & S PIZZA ALSO KNOWN AS LINDENLOFT 1971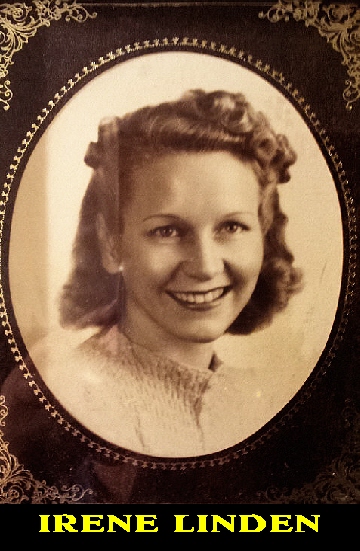 IRENE LINDEN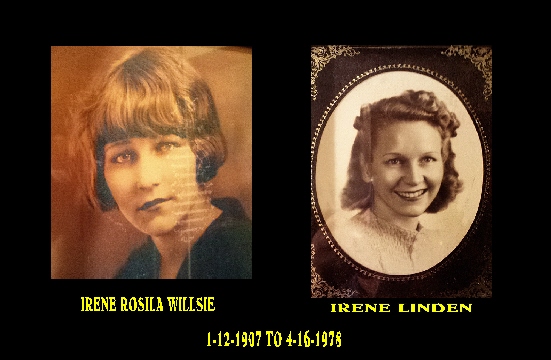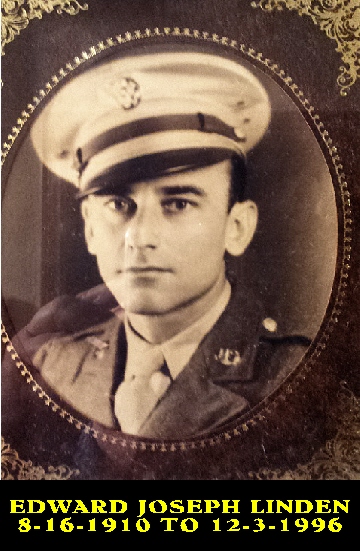 EDWARD JOSEPH LINDEN, LOCOMOTIVE ENGINEER, MKT RAILROAD IN PARSONS, KANSAS & U. S. ARMY LOCOMOTIVE ENGINEER ALL OVER EUROPE IN WORLD WAR II
2017 Parsons Katy Days video celebration. See Edward LINDEN AT THE 2 MIN. & 14 MIN. MARK
Website pictures & stories about Parsons, Ks. History: You Know You're From Parsons, Kansas When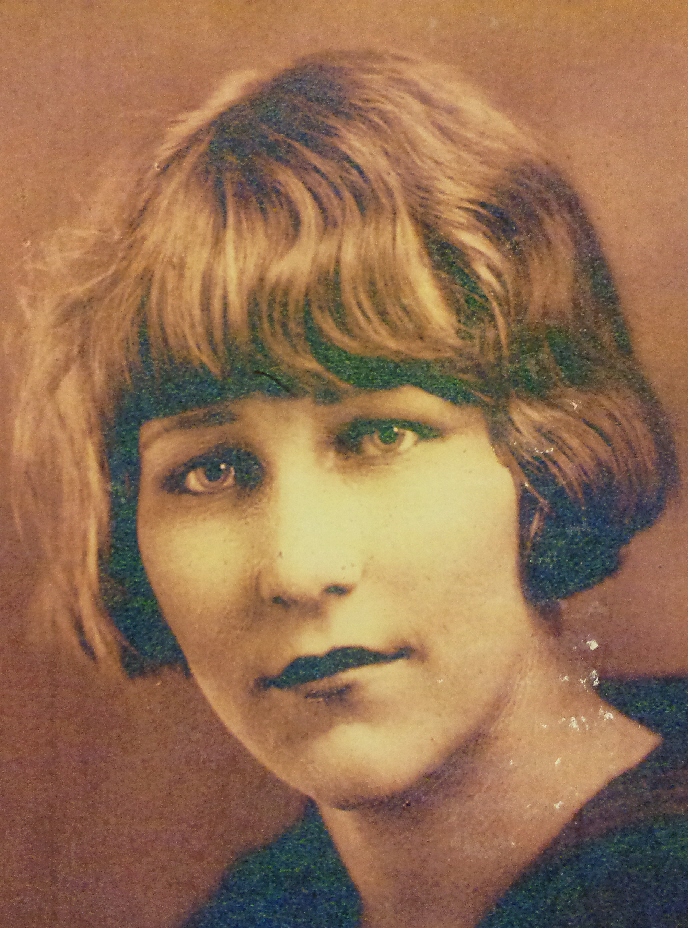 IRENE WILLSIE, PARSONS H. S. 1924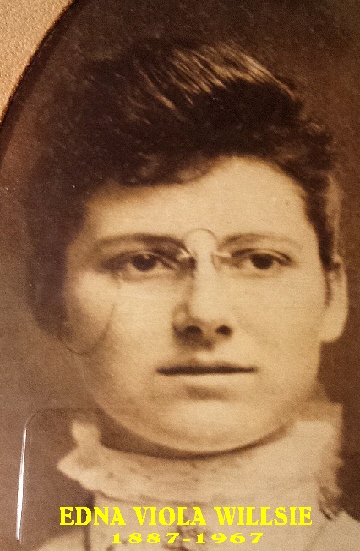 EDNA WILLSIE, IRENE'S MOTHER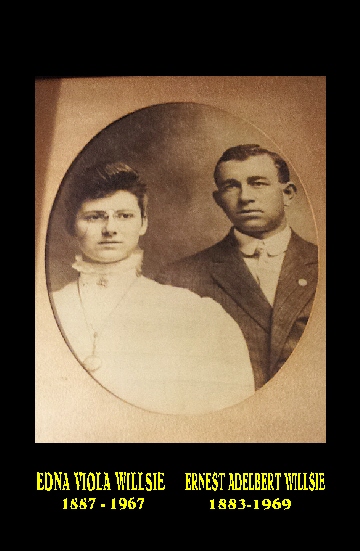 IRENE'S PARENTS EDNA & ERNEST WILLSIE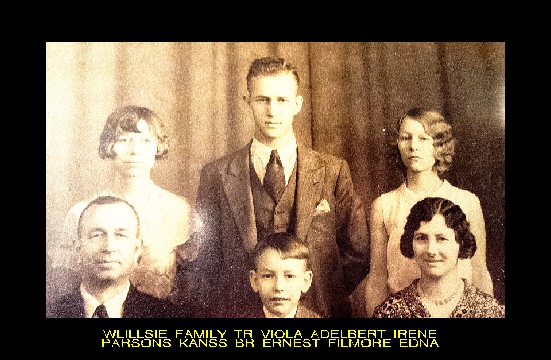 WILLSIE FAMILY, PARSONS KANSAS


TOP ROW: L TO R, VIOLA WILLSIE MEZGER, PARSONS H. S. BASKETBALL 1921, 22, & 23, SWB TELEPHONE OPERATOR

ADELBERT WILLSIE, PARSONS VIKINGS BASKETBALL, J C PENNY MANAGER 30 YRS IN DUNCAN, OK,

IRENE WILLSIE LINDEN, PARSONS H. S. ORCHESTRA, PRIVATE SECRETARY TO PARSONS LAWYER LESLIE CABLE, PART OWNER OF J&S PIZZA PALACE, NEVADA, MO. & TAHLEQUAH, OK. & LINDENLOFT PIZZA, MUSKOGEE, OK

BOTTOM ROW: EARNEST WILLSIE, PARSONS MKT RAILROAD STEAMENGINE BUILDER

FILMORE WILLSIE, HISTORY TEACHER, MACHINIST, & CHIROPRACTOR,

EDNA WILLSIE, BOSS OF THE WILLSIE CLAN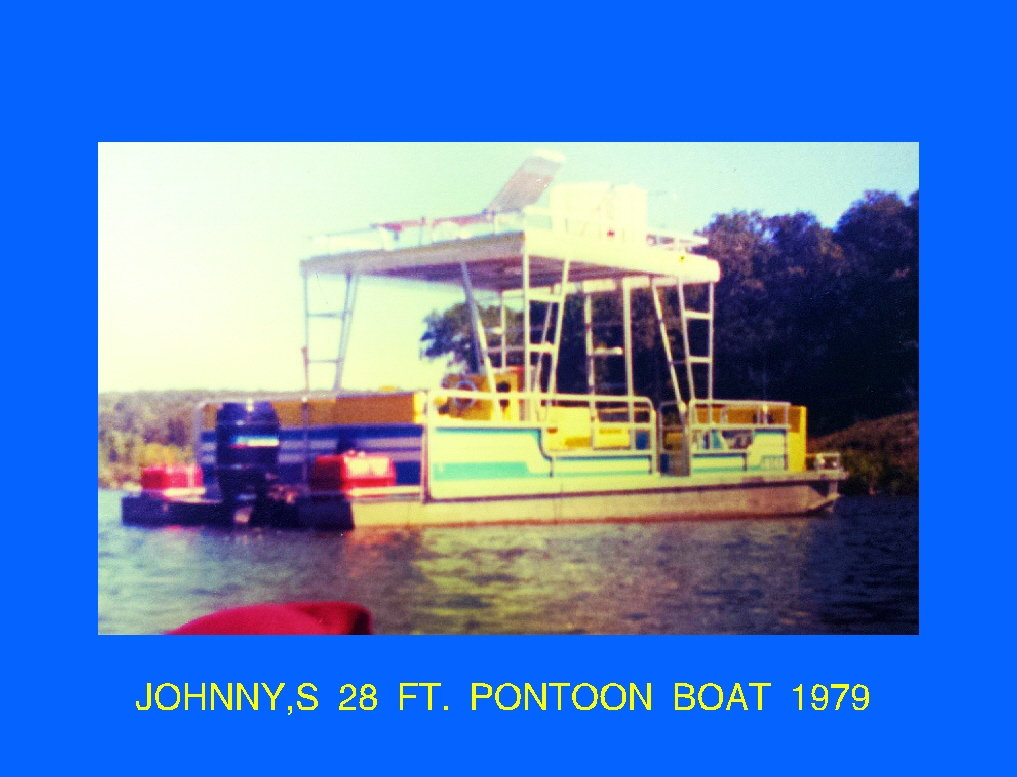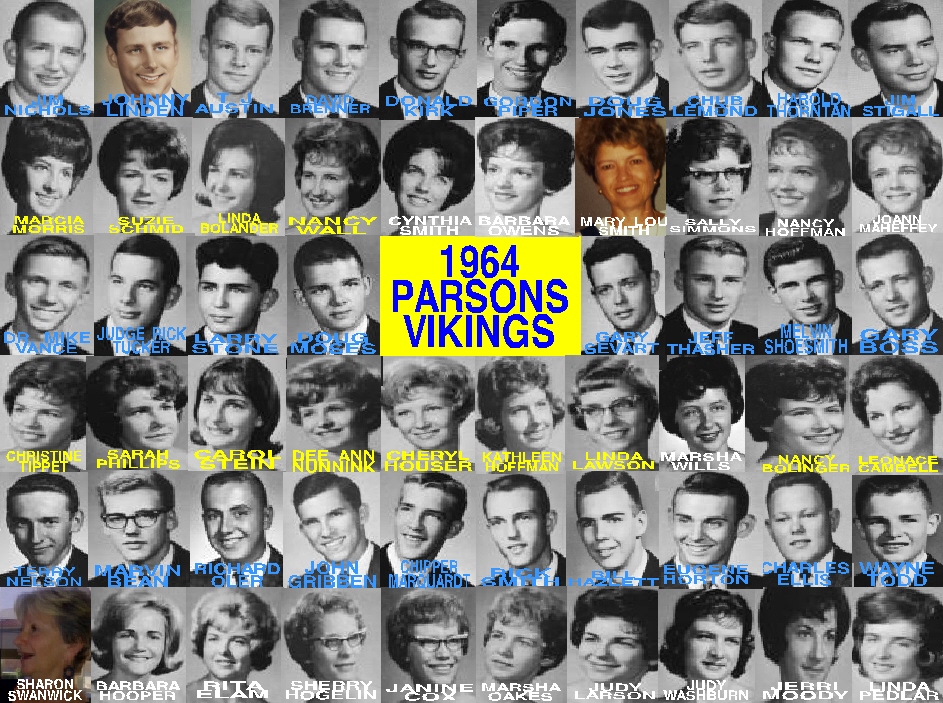 CLICK HERE TO GO TO PARSONS CLASS OF 1964.COM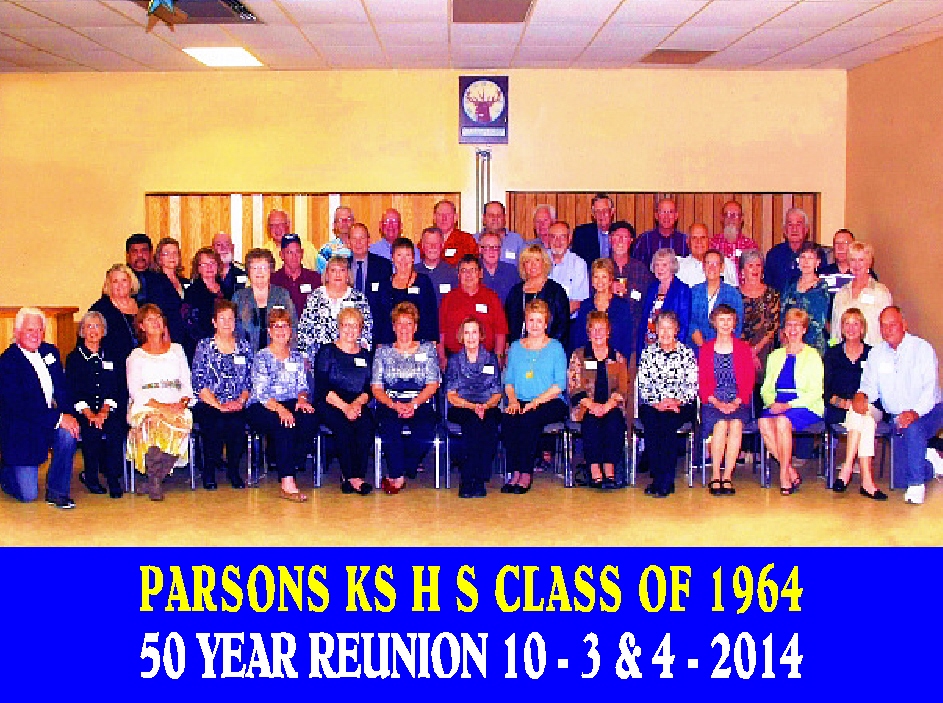 PARSONS KANSAS CLASS OF 1964 50 YEAR REUNION


QUICK COPY these names to go with the picture.

Top Row: Donald Kirk, Bruce McReyolds, Jim Nichols, Johnny Linden, Gary Boss, Wayne Todd, Gordon Piper, Mevin Shoesmith, Darrel Wilson, Sherman Collins Second Row: Phil Boring, Jerry Rose, Bill Hazelett, T.J. Austin, Jeff Thrasher, Jim Stigall, Tom Smith, Rick Tucker, far right Chipper Marqardt Third Row: Dee Ann Nunnink, Johnny Santos, Linda Lawson (Humphries), Linda Bolander (Darkis), Betty Wills, Jeri Moody (Miorandi), Nancy Bolinger (Donahoe), Bill Keiter, Cynthia Smith (Guttery), Mary Lou Smith (Gemmer), Judy Seifert, Janine Cox, Sherry Swanwick, Jackie Snyder (Ewan), Nancy Wall (Gard) Sitting: Charlie Ellis, Marsha Wills (King), Cheryl Houser (Reyenger), Judy Washburn (Robinson), Leonace Campbell (Miller), Sherry Hogelin (Dean), Barbara Owens (Moon), Linda Pedlar (Godbey), Sarah Phillips (Osborn), Jo Ann Mahaffey (Stigall), Kathleen Hoffman (Gales), Janice Brenner, Sally Simmons (Calkins), Marcia Morris (Murray) Gary Stwalley


CLICK HERE TO GO PARSONS CLASS OF 1964.COM



CLICK HERE TO GO BACK TO THE LINDENLOFT HOMEPAGE


CLICK HERE TO GO BACK TO THE CLASS OF 1964 REUNION WEBSITE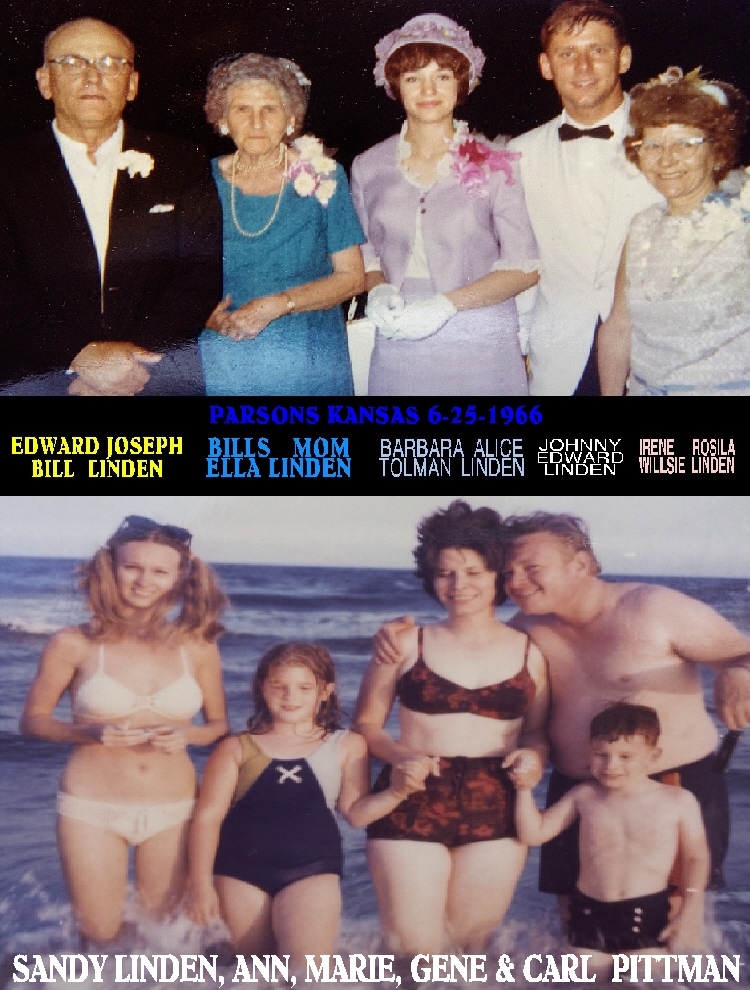 2017 Parsons Katy Days video celebration. SEE THE 2 MIN. & 14 MIN. MARK.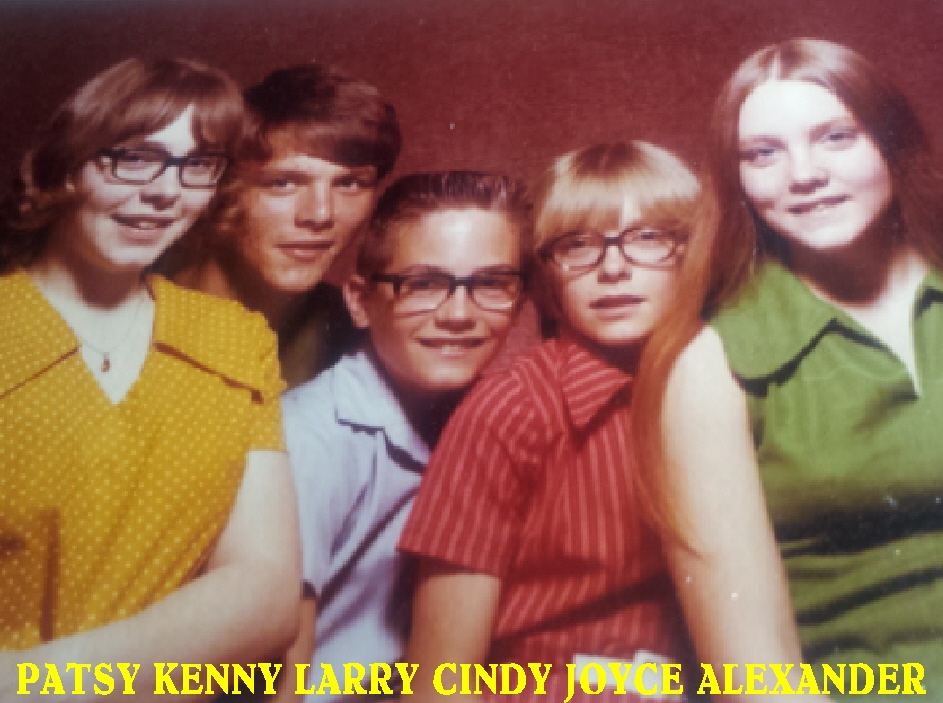 PATSY, KENNY, LARRY, CINDY, JOYCE ALEXANDER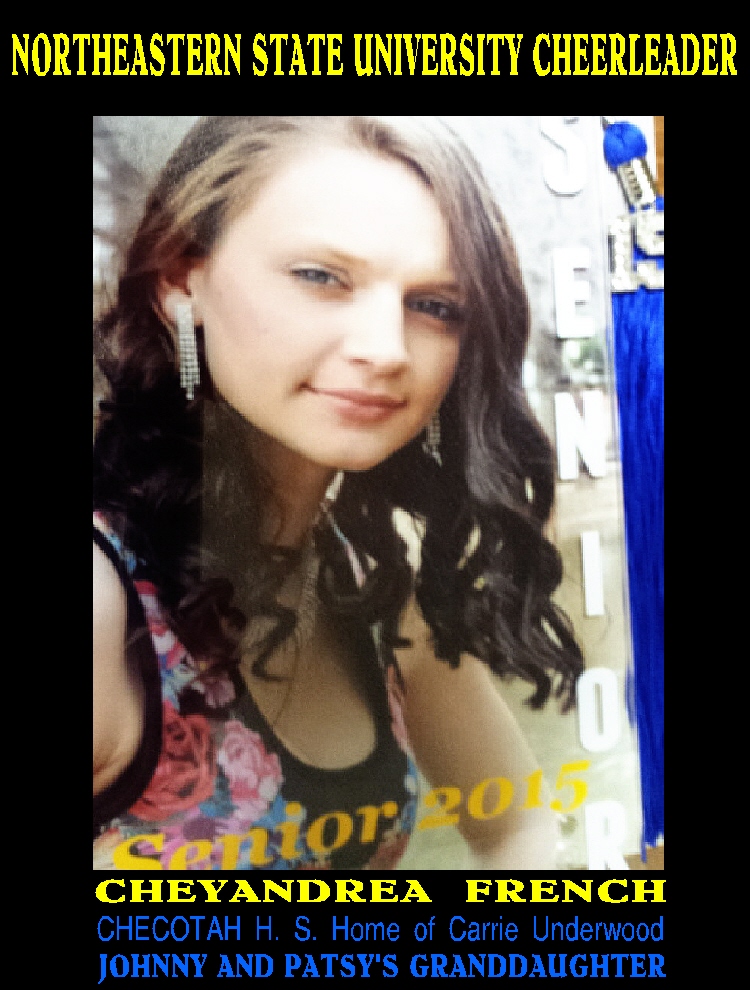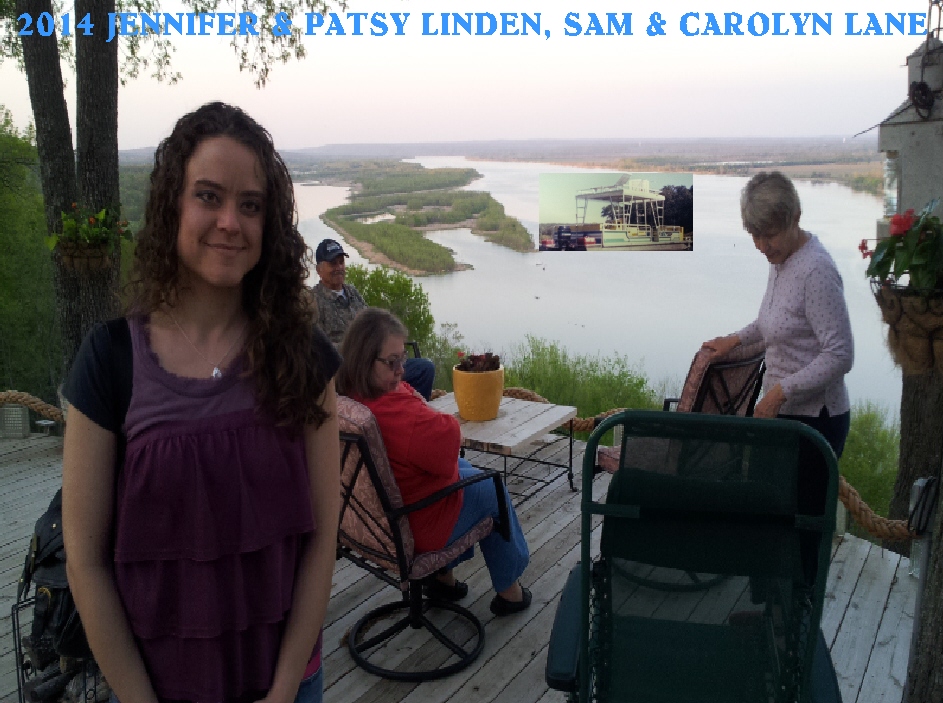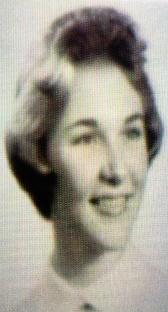 CAROLYN MEZGER MHS 1961


MOTHER OF MUSKOGEE H. S. CHEERLEADER KRISTIN LANE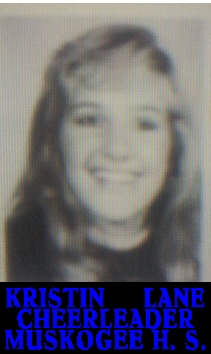 KRISTIN LANE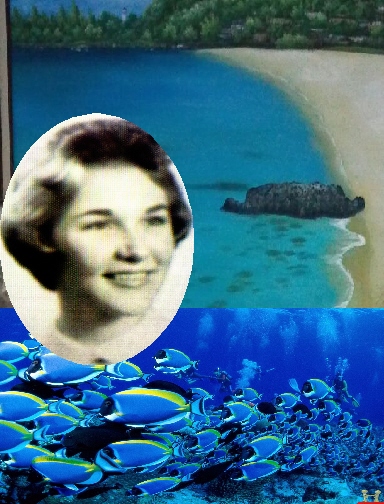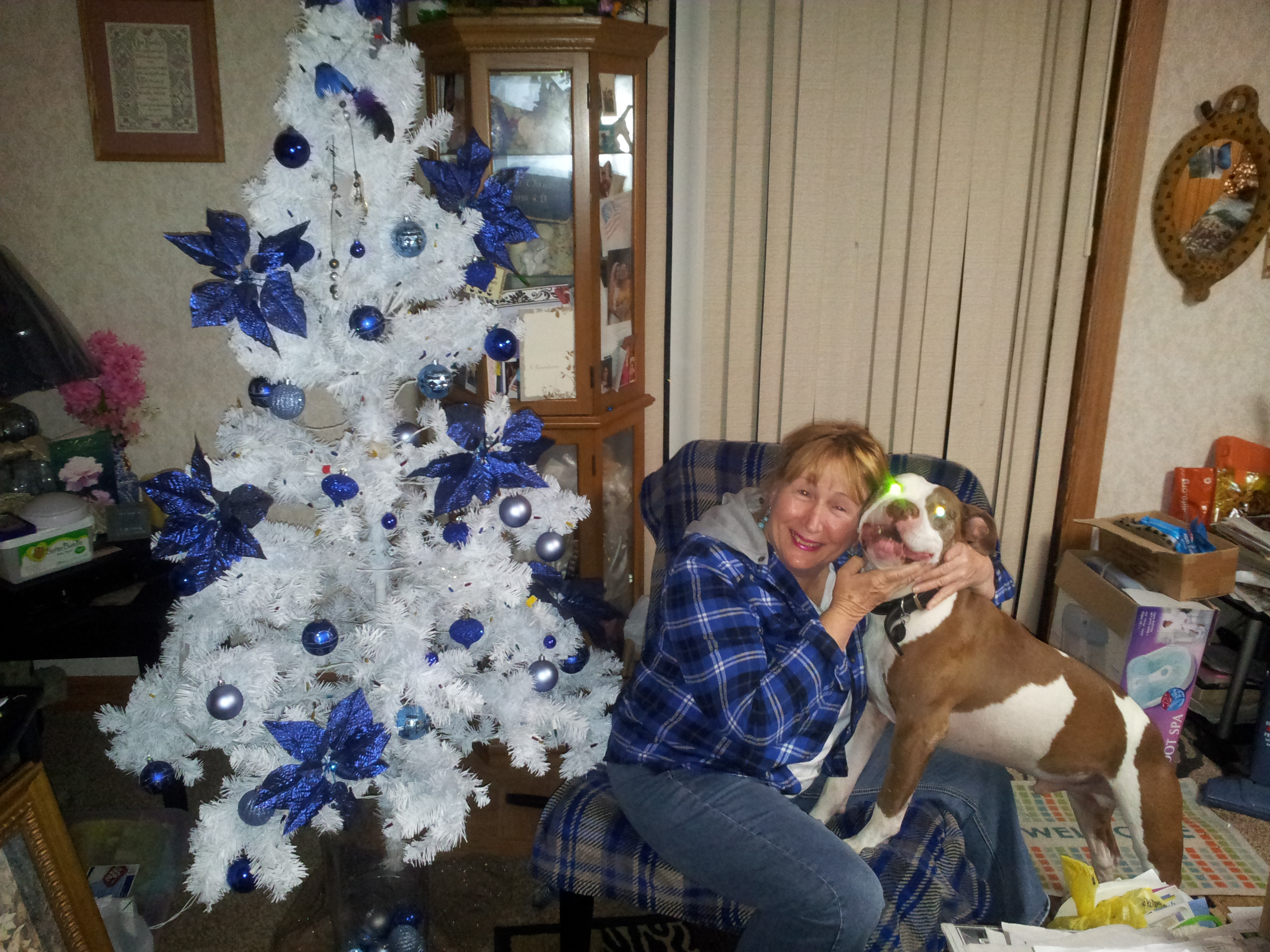 Pettie & baby, that's Pettie on the left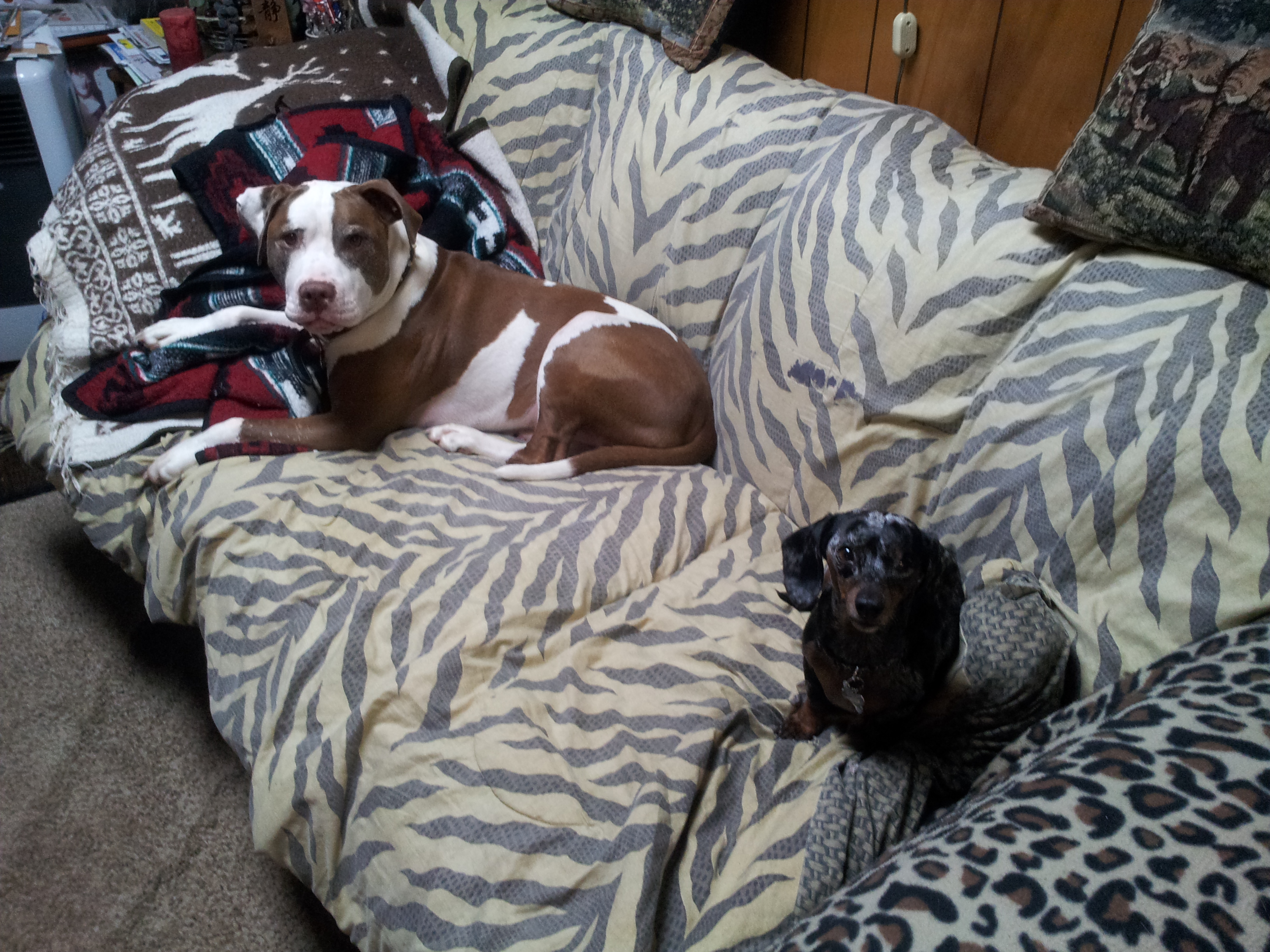 PETEIE & BABY
Hear the report "How to eliminate influmation, bad foods, cancer.
"order a monthly report to eliminate imflumation, cancer, ect".
---
| Return Home | PAGE 2 PARSONS CLASS OF 1964 | PAGE 3 PARSONS CLASS OF 1964 | PAGE 4 PARSONS CLASS OF 1964 | MOST FAMOUS MOVIE COWBOYS | CLASSIC COUNTRY MUSIC LINKS & URLS | TRUTH ABOUT UFOS YAHOO NEWS | LINDENLOFT PIZZA HISTORY | MUSKOGEE OKLAHOMAS 1st & ONLY PIZZA TILL 3 AM | PIZZA |